Bold Beam Ceiling System – Formed
Large Formed Beam Ceilings
Bold Beam ceiling systems provide visual definition in open plenum spaces without interruption to fire protection and HVAC devices. When installed with lay-in panels, Bold Beam ceilings create an appearance that is prominent and attractive. Similar in design to Beam Mate ceiling systems, Bold Beam ceilings are provided when larger Beam Mate profiles are required.

Design Attributes
Extruded aluminum and custom formed profiles
Module sizes per your specification
Installs like most suspension systems
Incorporate perforated metal or acrylic panels for a decorative effect
Multiple perimeter options
Track lighting available
Factory finished
Corners are factory mitered and welded
Custom beam profiles can be created
Material Options
Formed from Aluminum and Stainless Steel
Typical Beam Sizes
5″ wide x 5″ (or less) high
6″ wide x 6″ (or less) high
8″ wide x 8″ (or less) high
10″ wide x 10″ (or less) high
12″ wide x 12″ (or less) high
Call us for custom sizes
System Integration
Multiple sizes can be included in one system
Lay-in panel options available
Adjustable hanger location
Penetrations in beam face
Sprinklers
Air Slots
Perforations
Lighting
Bold Beam and Blades For Ideas & Inspiration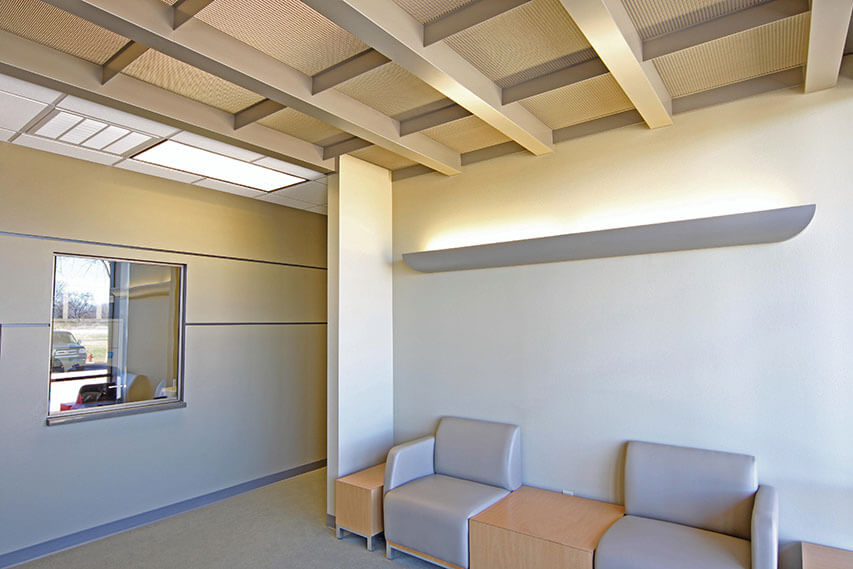 6″ high by 5″ wide Bold Beam shown above with Fin Mate Blade profile and MILLENNIUM® in-fill panels. Therapeutic Powder Coat Finishes



Green By Design
Products contribute to LEED® certification
In-House Finishes